Gold Bullion as a gift - how much it cost and what to choose?
Investment gold is an original and valuable gift for a child or adult, regardless of the occasion - anniversary, baptism, wedding, birthday, name day. The gold occupies a special place in the culture of every nation, and its gift is a traditional expression of love, affection, respect, and appreciation. The only question is what bullion to choose and what its price could be.
Since ancient times, gold has been associated with wealth, high social status, prosperity, and peace of mind for the future. To this day, gold remains as valuable. That is why to give the present of gold is an expression of generosity and a desire to make a valuable present of real value.
On the other hand, 24-carat gold is not a product that can be easily purchased from a nearby store or a mall. Only registered traders can buy and sell precious metal products, whether online or on-site. Often the most preferred present is to give money, but this is not always the most reasonable thing to do. Cash assumes it will be spent. While the gift of gold and silver is a treasure to be preserved.
As a gift for a child, gold is also a good option. Most children like the gifts that are a source of entertainment for them - smartphones, tablets, bicycles or electronic gadgets, princess dresses, or toys, to which quickly lose interest. However, to surprise the child, you do not need to spend a lot of money on something popular at the moment. You can choose bullion made of pure gold, which will draw his attention to the field of personal finance and savings. On the other hand, such a gift has a real value, which not only does not depreciate over time but on the contrary - increases. Gold is like a money-box which fills itself over time.
Bullion or investment-gift?
Bullions are the products that allow you to invest in the physical possession of gold. For thousands of years, gold has been highly valued by investors around the world who are looking for a long-term and secure investment for their funds. If we look at the historical quotations of gold for the last decades, we can notice that in the long term, the price of gold is gradually increasing. That's why it's a good idea to keep some of your savings in gold.
It is much more valuable to give bullion made of pure gold instead of giving the child or his parents an envelope with money or an expensive toy. So, in a few years, when the child has grown up or entered the life of an adult, he will have an object of much higher value.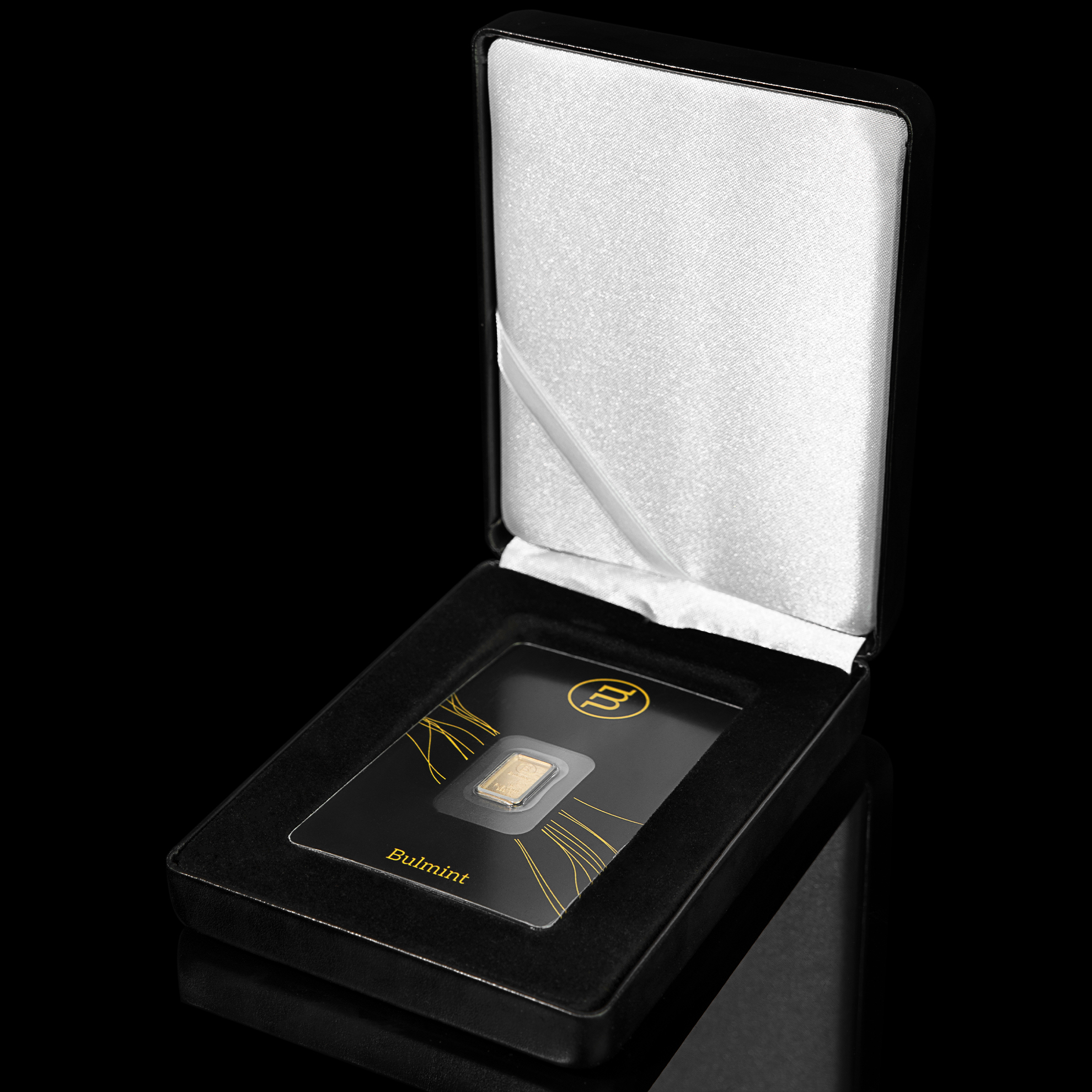 How much does a bullion cost and what conditions do the price depend on?
Contrary to popular belief, buying bullion does not necessarily mean a big investment. Bars of different weights and sizes are available on the market, hence the difference in prices. Bulmint produces and offers gold bars from 1 gram to 100 grams, with prices from BGN 129.00 to over BGN 10,000.00. It is important to note that the larger weight of the bar provides you with a cheaper and therefore closer to the stock market price - you will pay less if you buy 10-gram bullion compared to the price of two 5-gram ones.
The price of bullion depends mainly on its weight, i.e. the amount of gold it contains, and, of course, the stock price of the precious metal. The stock price is the result of many factors, the most significant of which is the global economic and political situation. In times of market turmoil, global financial crises, or a pandemic situation, there is an increase in interest in gold as a safe investment which leads to an increase in its price. Under normal conditions, when the economy is growing, investors prefer to invest their capital in other assets, such as stocks, so that gold prices remain relatively stable and the rate of increase is slower.
How much a gold bar cost depends on the cost of ore mining, as well as its transportation, refining, processing, cutting, and distribution. Due to this type of cost, the price of the bars, whether made of gold or silver, is always higher than the quotation on the stock exchange.
What bar to choose from?
When choosing a gift of precious metal, in the first place you should be guided by your financial capabilities, as well as what the occasion is. For holidays that are celebrated once in a lifetime - birth, graduation, or adulthood, you may consider buying bullion of 2, 5, or 10 grams. As a gift for a birthday, baptism, or Christmas, the bullion can be smaller - 1 gram, for example.
What else do we need to know?
The bar must be purchased from a reliable manufacturer or trader of investment products. In Bulgaria, only traders registered under Article 13 of the Currency Act have the right to carry out mining activities, processing, and transactions with precious metals. To check whether a legal entity has this right, you can consult the online register.
The package of the bar is also essential. It is the certificate of quality of investment gold bullion and for this purpose must be specially designed and contain information about the manufacturer, weight, purity, and the serial number of the bar.
Find all available Bulmint investment gold bullions or more options for gifts made of precious metals: