The second edition of the Bulmint Easter Culinary Competition in support of a charitable cause
Published on 19 April 2023
2022 marked the beginning of one of Bulmint's most inspiring traditions - the Easter Culinary Competition in support of a charitable cause.
This year the holiest Christian holiday once again united our team around a noble deed that brought us closer to the true meaning of Easter - loving your neighbour as yourself and the belief in a brighter future. Inspired by our Christmas initiative a few months prior, the winners of the competition chose to donate their cash prize to the ARTON Foundation's Program for Art and Music Therapy for Child Cancer Patients.
For 2023 we grew the award fund to double that of last year's cash prize - the ARTON Foundation will receive a donation of 1000 BGN.
This is how Bulmint turned the last business day before Easter into a caring gesture towards the community we are a part of.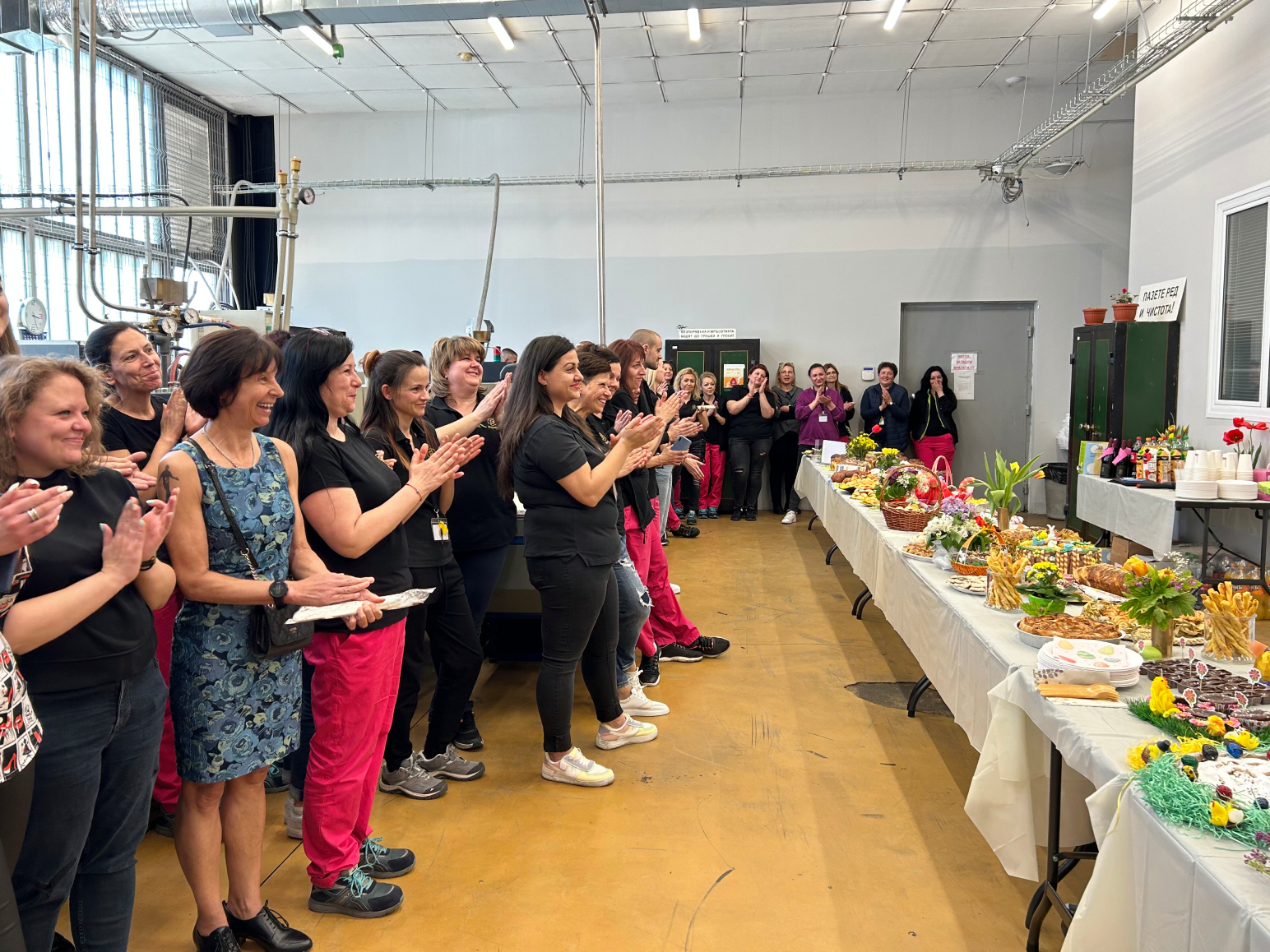 Rules of the contest
Each contestant's objective was to prepare a traditional homemade meal in accordance with predetermined categories of typical Easter dishes. Every department was tasked with presenting a selection of delicious food corresponding to their respective category - from refreshing salads to scrumptious baked goods, Bulgarian Drob Sarma and masterfully prepared roast lamb, with enticing sugary pastries for dessert.
It fell to our strict but fair jury of three to decide who among Bulmint's innumerable culinary talents would win this year's first place.
All 150 members of our team took part in the event. A total of 16 teams competed for the honour of choosing the charity cause that Bulmint would support with a 1000 BGN donation.
2023 Bulmint Easter Culinary Contest
Filled with delicious food, stylishly decorated and surrounded by merriment, Bulmint's table was the festive centerpiece of our pre-holiday celebration.
Our colleagues had turned every dish they had made into a work of art, with elegant arrangements and decorative accents for an extra jovial atmosphere. Every recipe had been carried out with great care and love - and that level of dedication was palpable in every bite.
Team "Annealing and Smelting" won third place with an impressive roast lamb. Team "Refinery, polishing and maintenance" earned second place with a creative selection of lean dishes.
And who won the grand prize?
Among the myriad of tasty dishes, the sugary creations of the two-time champions stood out once more. For the second consecutive year, the esteemed first place was taken by none other than the Quality Control Department.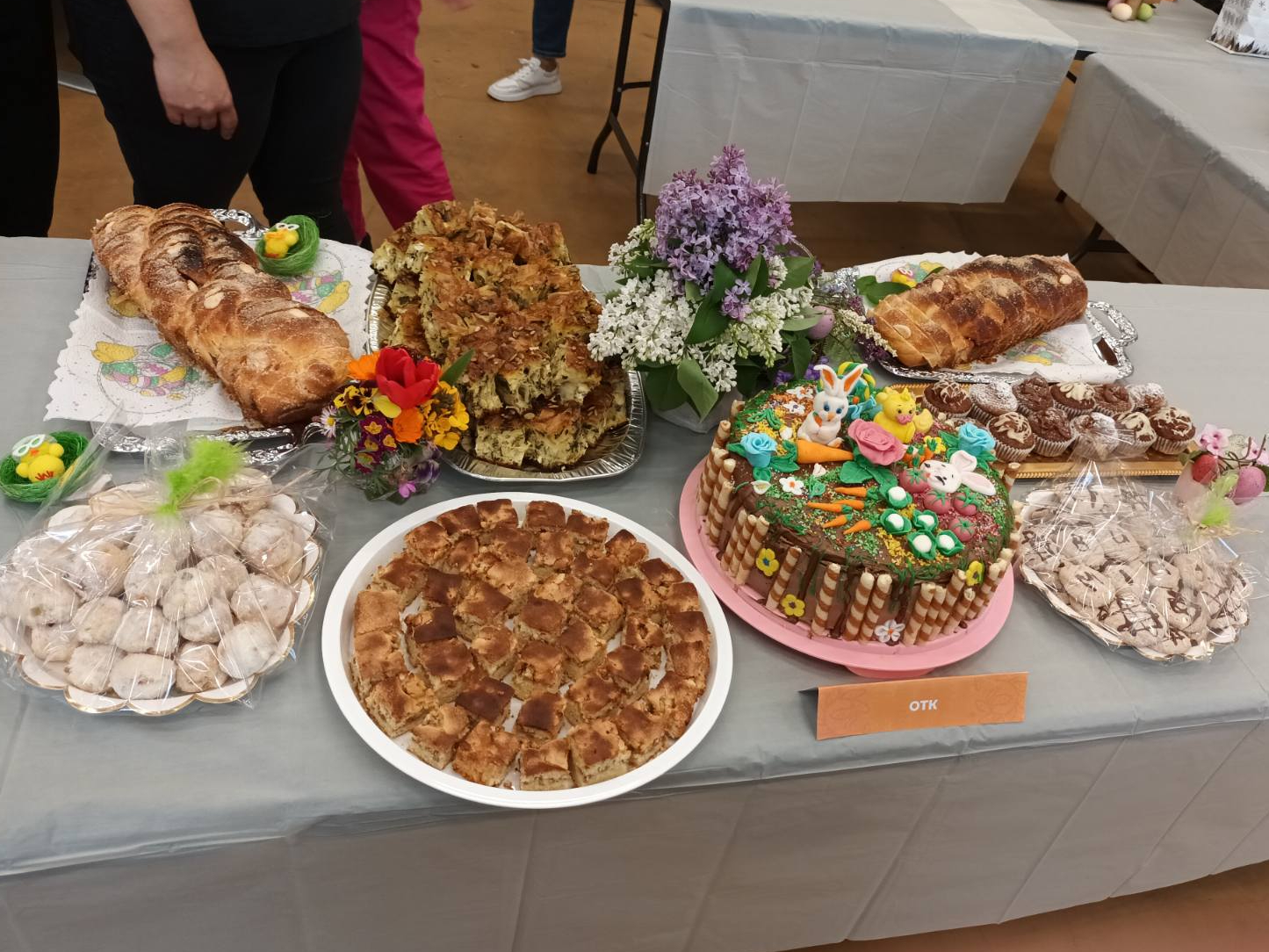 Last year their contribution was in the "sweet pastries" category, but they took it upon themselves to gift their colleagues with an extra bit of joy in the form of a selection of savoury traditional dishes. This time the draw conducted prior to the event once again challenged them to defend their title in the same category. Despite the indisputable talent of the other contestants and the high standards they themselves had set the year before, Team Quality Control outdid themselves with a delectable assortment of pastries - mini stollens, walnut cookies, chocolate bonbons, blueberry muffins, Bulgarian Easter sweet bread and a artfully decorated Easter cake.
Touched by Bulmint's joint initiative with the ARTON Foundation a few months ago, the winners chose to donate their prize money to their Program for Art and Music Therapy for Children at the Pediatric Hematology and Oncology Department at the "St George" University Hospital JSC in Plovdiv.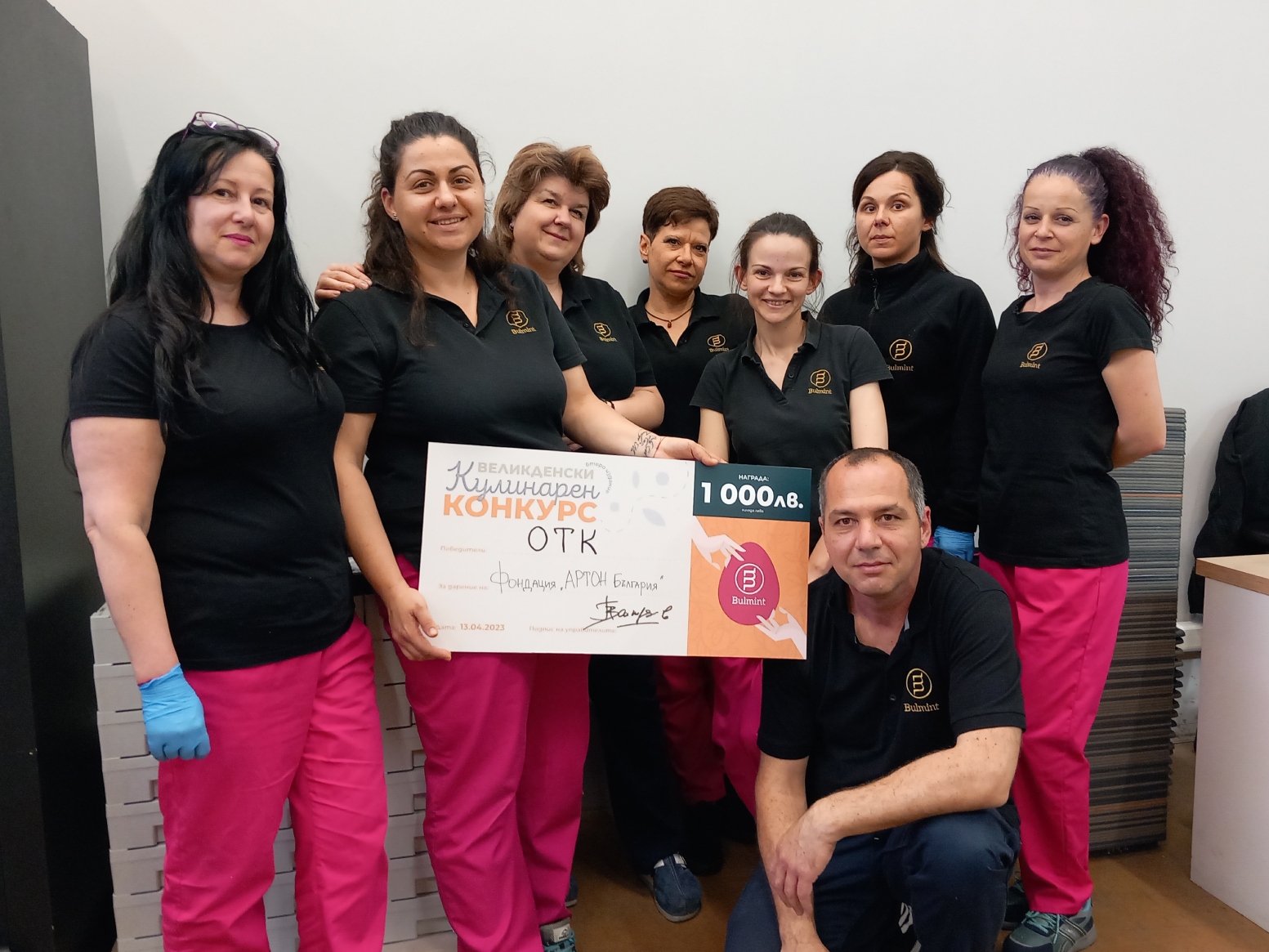 The 1000 BGN cash prize will be joining the 2700 BGN donation from our "Christmas Fairytale" charity card, making a tidal of 3700 BGN. The card is still available for purchase and all proceeds from it will continue to go to the foundation.
This unity in our support of a noble cause, combined with some cheerful pre-holiday festivities, has grown from a mere idea into a beautiful tradition. The 2023 Bulmint Easter Culinary Competition is now a precious memory for all involved, and the plans for next year's culinary adventure are already underway. We are glad to have gotten the opportunity to once again aid the ARTON Foundation's wonderful initiative so soon after our first donation and we hope that Team Quality Control's contribution will provide enough funding for a few more months of specialised care for the young patients.
Stay tuned for Bulmint's next charitable initiatives by following our Facebook page or subscribing to our newsletter.